World Domination Update
"Ambiance Zebra"
vol. VIII, iss. ii
"The voice of one crying in the wilderness"
—Matthew 3:3

Quote of the Moment: "Do you feel like screwing, Phil? My hand's tired." — one painter to another while removing a dry-wipe board off a wall.
Secret Word of the Day: daffodils
Site of the Week: Yak Planet
Barbecue Sauce of the Month: Sonoran Sam's Savory Sage-Brush Sauce




In this issue:


· More Bush Bashing
· Cobcat Update
· The Weberman Job
· Spelling Disaster
· Three-Chord Nazis
· Gumby's Pizza Beatdown
· Ask Evil Matt
· Hedgehog Nirvana

Hi, Kids!

Well folks, most of you know that Raid Day celebrations here at the Cyber-Compound went off with a big bang—which was sort of the point, right?!? If you missed it, we split into teams and played a variant of 'king of the hill,' with half the crew trying to overtake an elevated cactus patch and the other half defending it. A heated battle with the flinging of donuts and assorted pastries broke out, but of course it was a friendly fight with great fun for all, and the only casualty being some wounded feline pride when FireSkunk's cat Catalina took a raspberry éclair up-side the head.
Of course, if that's how we celebrate Raid Day 'round here, y'all can only imagine what we have in plan for Flames Day on the 19th! FireSkunk has taken an active hand in set-up for Flames Day; she has a huge quantity of daffodils left over from Easter, and they should be nice and dried out by the 19th. Ought to make great and colorful kindling. For those of you who aren't local to the BadAss locale, just make sure you mark this milestone of FBI ineptness in some form, ideally involving that lighter you should always keep handy...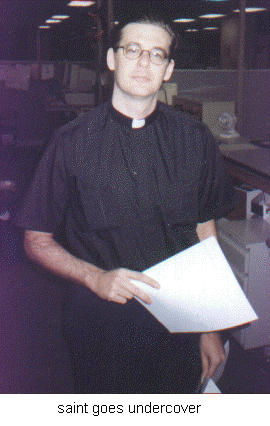 Meanwhile, saint is still out of the office, leaving me in charge of the Cyber-Compound until his return. If you're wondering at this semi-lapse in leadership, saint has been on sabbatical since New Year's. He first flew to Sampoerna, Indonesia for the annual Swimming of the Squids, and is currently back up at Arkham, Massachusetts, teaching at his old alma mater, Miskatonic University. For those who don't know, saint has a Doctorate in Divinity from Sadburns Theological College (the religious division of Miskatonic) and was asked by the Dean to fill in for the spring semester. Details are a bit sketchy, but apparently over Christmas break, one of the professors had either an epileptic seizure or nervous breakdown while doing research in the library, requiring his extended hospitalization. The Dean called in a favor with fellow alumnus saint, who agreed to step in and teach during the professor's recovery. No word if the position is lucrative enough to keep saint longer than the one semester, but I'm sure he's at least having fun warping the Class of 2004 to his own twisted vision, and hopefully he'll be back by summer.
Otherwise, it's just business as usual here back at BadAss, Arizona, which means working on lung cancer at a carton-a-day rate while wondering the eternal question:
What the phuq was Dubya thinking?!?!?
GWB doesn't even seem to be trying any more to put on a façade of decent leadership; he's clearly just running the clock out until election-time. At least we should take comfort that he is more preoccupied with spin control than moving forward with any more progressive pogroms to knock America back into the Dark Ages. For a while, the Democrats seemed obsessed with the question of his National Guard participation (or lack there-of), but what happened thirty years ago is piddly compared to the shenanigans he's crapped on us in the past four.

Among Bush's latest spin control circus was the appointment of a panel to investigate "intelligence failures" regarding Iraqi WMD's. Bush himself picked the panel, and the results won't be in until after the election anyway, so this is obviously window-dressing. Don't get me wrong: we do need an inquiry into this, but I almost crashed my car laughing when I heard on NPR who had been appointed to look into the matter. I should start playing power-ball, because my chances are better at that than hearing an un-biased accounting of what went wrong with American Intelligence.
Dubya's incumbency has had not one but two disastrous lapses in information that we know of: 9/11, and Iraq. The conclusion is inescapable: there is a lack of intelligence in the Bush Administration.
But we already knew that.
Contrary to what Bush wants everyone to think, Osama bin Laden and Sadam Hussein are two separate issues. I think we can all agree that Al Qaida is a threat to the United States, as it has demonstrably attacked us in the past with disastrous results. Me, when I learned that Osama was in the Tora Bora region, I would've nuked it with a half-dozen plowshares just to send a message, but at least Bush made an effort in Afghanistan. A half-assed one, as Al Qaida is still around and not radioactive remnants, but 9/11 was an act of war and we responded properly.
But what about Iraq?
To be honest, I was originally in favor of invading Iraq. Although I didn't think Hussein had functioning WMDs, I was pretty sure he was working hard on getting some, so better to nip this in the bud. When GWB would get up and tub-thump about the dangers of Iraq, I figured Bush has access to information I don't, so he must know something about the situation I don't. After all, he can't be that dumb to do something like start a war of this magnitude if there isn't anything 'real' behind it. If he's giving up on Al Qaida so soon, there must be a good reason and a credible threat. Besides, Saddam is nuts and provably a threat to both his own people and neighbors, so something had to be done about him.
So, despite not liking Bush, I initially gave him the benefit of the doubt.
I started to second-guess that when Colin Powell got up in front of the United Nations and laid out our evidence. My response was, "that's it?!?"
Things degenerated geometrically when details for how we were planning on tackling Iraq began to filter down to us plebes. Still thinking, or at least hoping, that Bush must have some hard evidence he hasn't told us, I began to shake my head and adopt as mantra the words of the great Sir Humphrey Appleby: "if you are going to do this damned silly thing, don't do it in this damned silly way."
Now that we realize it was all bullshit, I just hate Bush so much more. I had given him the benefit of the doubt, and he betrayed that trust. I can only be thankful that I haven't lost any family or friends over in that sandy quagmire, 'cause then I'd be really pissed.
Anyway, I guess it serves me right for knowingly setting aside Rule Number One of Branch Floridianism: Trust No One. Not even your President.
Unfortunately, I'm not very impressed with the crop of alternative candidates that are running to replace the Toejam from Texas. I'll save an anti-Kerry rant for the next issue, and just leave it with one observation. In poll after poll, the highest criteria I saw listed for these various lichen-like losers was not "will he make a good President?" but "can he beat Bush?"
Nihilism, folks, is a dangerous thing, and while it's obvious that Bush sucks like a starving leach, it is possible to do worse.
So I'm digging a fallout shelter in the BadAss basement and lining it with some heavy lead, because it's gonna get messy and be a while before we as a nation can dig our way out of the unsanitary landfill Bush has been busy burying us in.
...meanwhile, in other news...
New Recruit
All o' y'all should give a hearty, heart-warmin' wekkum to our newest initiate, Bri2k of the Copper Zippo, who will be heading up our Pennsylvania Cell. Bri2k found our site by playing link-leapfrog with the Jonestown Article I published a few months ago. Our mutual interest in Jonestown, plus him knowing Raymond Shaw (the kindest, bravest, warmest, most wonderful human being I've ever met in my life) got him in pretty quickly, and he has already brought something to the table. As said, he found (and appreciated) the Cyber-Compound while he was researching the Jonestown tragedy. Through nefarious means, he had managed to procure the following snap-shot: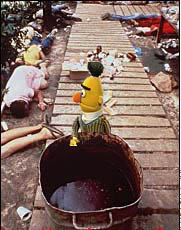 I always knew there was more to Jonestown than They were telling us...
Bri2k has offered one other interesting tidbit, which I reprint here:
I found this link about Peak Oil while cruising the Diversionz website. I found it very interesting and somewhat frightening reading and might be worthy of your perusal and seems like rich fodder for a future WDU update. The link is:

http://www.lifeaftertheoilcrash.net/

This seems to explain a lot of what's been going on in geo(wbush)politics and appears to be fairly credible stuff although I wonder if the doom-saying predictions are accurate. Even if the timeline is wildly inaccurate it's interesting to theorize what might happen once we burn through all the economically viable available oil out there.
The above link is interesting, and while I already knew most of it, it is a good reminder that our world is run on a finite fossil fuel, and it will eventually run out. Most likely in our own lifetimes. And, of course, the article ads (ahem) fuel to the fire of typical Bush oil schemes...
Cobcat be-gone?
For those zoologists out there following Branch Floridian discoveries in fauna, I recently made an expedition with kindred spirit Kiwi to Billy the Mountain. Warning him of the great danger we were in, I had planned to show him the sign that read "Watch of Cobcat." This sign had been there as long as I have had residence in the area, warning hikers of the presence of the viscous, man-eating cobcat of Billy the Mountain.

Sadly, the sign had been replaced with one reading either "Watch for Bobcat" or "Beware of Bobcat." I can only take this to mean that a bobcat has moved into the area, and scared off the cobcat.
There have been unconfirmed rumors of cobcat sightings up on Camelback and especially Squawk Peak for several years, so we wonder if the infamous cobcat has shifted territories. This would make sense: although the vicious, man-eating cobcat prefers to eat men, in a pinch it will hunt other things, such as camels or squawking birds. They've also been known to prey on borts, though mostly for fun and sport.
FireSkunk and I have been planning an expedition to Squawk Peak for some time now, as allegedly the mountain gets his name from a rare and mysterious bird living on it, one whose description (except for the sound) is very similar to another rare avian of the Scandinavian arctic we are fans of, the klee bird. Klees are the largest pollinator of daffodils, so we'll be sure to bring some along as bait. And who knows: maybe we'll see a cobcat.
If we ever get to stomping around up there, we'll let you know what they find. Of course, if we do actually run into a man-eating cobcat, there's a good chance that only FireSkunk, being a woman, will live to tell about it. And I certainly don't think we're up to capturing it. According to an ancient Roman text written by some wag plebian scum, the only way to catch a cobcat...
| | | |
| --- | --- | --- |
| | ...was for a particularly handsome slave to present his shapely, exposed anus to the cobcat's mighty sexual apparatus; then, once the act of copulation (which invariably proved terminal for the unfortunate slave, due to unsustainable blood loss) reached its critical point and the cobcat was momentarily distracted, a gang of a hundred or more whooping slaves would wrestle the cobcat to the ground and throw a net over it. | |
Much as I love cobcats, think I'll pass on actually capturing one...
Reader Feedback
shade.

"However, in his defense (gasp! horror!) I will give him the benefit of the doubt on this by noting the intense use of French throughout his site, and entrer is Français for to enter." - from wdu81

Believe it or not, I am actually very familiar with the French language, having taken several years of it in school. I know that Entrer means to enter, and I actually considered this when I saw the webpage. However, within the context of the page (if this was his intention at all) he has used the INCORRECT TENSE of the word - so no respect is earned in my opinion. Even in the French language, one never uses the infinitive of a verb in normal writing or conversation. Actually the only major language to break that rule on a semi regular basis is English. Go figure. I started to includ ethese thoughts in the original e-mail I sent you, but I didn't because I have been making a concerted effort to not be so damn wordy all the time. Aftreall, that's your job. :)

Speaking of MArtians and the like...

What if crop circles are just alien gang signs? Could explain the large number of sightings and crashes. They are shooting each other down in the battle for the new turf: Planet Earth!

My sincerest apologies if this is similar in any way to something you have put forth or to Hubbard's Battlefield Earth. I have neither read the book series (of BE) nor seen the movie. I love myself too much for that.

—
shade's peshar
I had suspected that something was amiss with the 'ENTRER' link, but not being fluent in French, let it slide. However, Fireskunk does speak French, and she did confirm that it was the base form of the verb, which is at the very least grammatically awkward. Most likely PapaPussbag once again did a Babelfish translation when he churned out the site.
Crop Circles have always puzzled me, and I for one have trouble believing that those two old geezers in England did all of them. I have a few theories about them, but will save them for a later date, when I can either substantiate or debunk my own ideas. For now, however, I defer to Harriet on the matter, who insists that (in at least one case) crop circles are the result of URHs (Unidentified Rolling Hedgehogs).
As for the whole Battlefield Earth thing... don't get me started! Hubbard ranks down there in the bowels of "philosophical literature" with Ayn Ranch and her Objectivist Cult, but I'm purposefully skipping harangues against the Hubbard Subject just in case Co$ Inquisitors are listening...
Mining the Gemstone File
(part 3)

Reader Feedback
Hi Evil Matt,

I have been looking for the graphic you sent me illustrating a flax - or is it flack? - but I can't find it. If you can send me another one I will send you a Word document containing 350 pages of the Gemstone File. It really must be seen to be believed.

—

Gary Buell
shade's peshar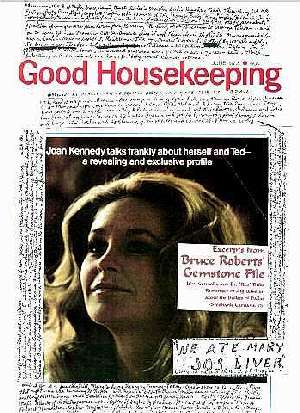 The requisite flax has been credited to your account.
For those who forgot, Gary contacted me a year ago while researching a book on the 'File, and was cool enough to kick down a copy of the infamous Good Housekeeping Liver Cover.
As of this printing, he hasn't passed on his copy of the 'File to me, but y'all can be sure that I'll give you the quick & dirty on it when I have digested it.
Readers may recall my receiving Reader Feedback from Gemstone pioneer Stephanie Caruana, who is still actively championing Robert's Magnum Manifesto. Personally, I am satisfied that the Gemstone File owed more to Bruce Roberts' brain tumor than to any inside information he may have mined or dug up. In at least one case, his revelation of the final Fatima prophecy was wrong, at least if the Vatican is to be believed, and we know how much Roberts trusted The Holy See.
But even if I don't buy the Gemstone File Thesis, it has a special place in my brain due to my fondness for complex, convoluted unified field theories. And you gotta admit: the Gemstone File is a beaut.
Reader Feedback
shade's peshar
Well said, and I don't feel like dealing with it, either. At least in any depth, because I don't buy it. Still, for those curious (all three of you) here's the quick & dirty version of what S.G. was getting at:
Catholics and Masons hate each other, and having a Catholic president was viewed as dangerous by most Masons (and a lot of non-Masonic Protestants as well.) After all, a good Catholic's first loyalty would be to the Pope, not the American people, so many would see the president as a Pontifical puppet. This is not as far-fetched as it sounds, given that letters from clan patriarch Joseph Kennedy have recently surfaced where he offered to act as a go-between intermediary for the White House and the Vatican, should his son get elected.
Apparently, many quasi-Masonic scholars see the Dealey Plaza area rife with Masonic symbolism, ranging from the latitude (32° north, with 32 being the highest Masonic degree) to some sacred geometry in the Triple Underpass. I don't even pretend to understand it all, but apparently Dealey Plaza was specifically chosen to "send a message" to the Vatican as to who was behind the killing.
There is absolutely no proof that Lee Harvey Oswald had any Masonic connections, or even any interest in such secret societies. If we buy the "Oswald was a Marxist" story, then he would have been an atheist, which precludes him from Masonic membership as one must be a monotheist to get initiated into the Craft. Of course, anyone toting the "Masons did it" story would undoubtedly cry that Oswald was just a patsy, so his personal beliefs would be irrelevant.
Still, if you're of a conspiratorial bend, then the two best candidates for culprits behind the JFK hit would either be the CIA or the Mafia. The CIA has had Catholic connections almost since its inception (many heads of the Company were Knights of Malta, and Reagan CIA chief William Casey even made sure that the Vatican got the same intelligence briefings that Ronnie did!) Likewise, the Mob, being Italian, has strong ties to the Throne of Rome, and initiation into the mafia is just chock full of Catholic symbolism.
In other words, it doesn't sit right that JFK was killed just for being Catholic if the people behind the hit were Catholics themselves. Granted, the Catholic Church does have a history of occasionally poaching their own, but those examples had obvious motives behind them, and I have found no indication of why the Romans would want to do in JFK.
...and speaking of JFK...

The Weberman Job
In 1975, researchers James Canfield and Alan J. Weberman published a book called Coup D'Etat in America. It was an analysis of the JFK assassination, and posited a dual thesis:
Lee Harvey Oswald was a CIA agent run by überspookmeister James Jesus Angleton,

the real assassins were Lamar Christ, Frank Sturgis, and E. Howard Hunt. These were the infamous "three tramps" arrested in the trainyard behind the Book Depository less than half an hour after the hit.
If those names draw a blank, here's a quick rundown on each:
Jim Angleton was the head of Angleton's paranoia is the stuff of legend, as was his hatred of the Kennedy brothers. He was also notorious for running private operations without the approval of the head of the CIA.

Lamar Christ was a CIA agent of some notoriety.

Frank Sturgis was never officially a CIA agent, but did have extensive ties to the Agency and apparently worked in some type of contract capacity for them as a double-agent within the Castro regime. He gained worldwide infamy when he was arrested breaking into the Democratic National Headquarters at the Watergate Hotel.

Howard Hunt was a long-time Company spook who was also arrested in connection with the Watergate debacle. Other feats on his r
é
sum
é
include some of the primary planning for the Bay of Pigs invasion.

The reaction was about what you'd expect: the book was ignored, and Howard Hunt sued co-author A.J. Weberman for libel. The book went out of print in the early '90s, though when I worked at a bookstore up in Ice Station Zappa I remember we carried a copy in the History section. I skimmed it, mostly the photos, which included some pretty neat overlays of the three tramps and pics of Hunt, Sturgis, and Christ.

Despite the book going out of print, Weberman continued his research, and in 1993 got a huge windfall when Congress passed the JFK Records Act, releasing a huge amount of documents that were mostly blacked out for "national security." Weberman must have spent a small fortune of F.O.I.A. requests, not only on JFK-related material but anything even tangentially involving his three suspected assassins.

In fact, Weberman amassed and collated so much information that supported his theory, in his mind at least, that an updated printed edition of Coup D'Etat would have been impractical due to the sheer size and volume of the data. So he did the next best thing: bought some web space and set it all up on www.ajweberman.com.

Amazingly, he made it public access: anybody with a computer can surf in and scope it out in its entirety for free.

The site is huge. It is divided into 27 chapters, or nodules, that are raw text. In total, they take up 7,330,764 megabytes. If some fool were to actually print it out on 8½x11 paper, it would run 2,055 pages.

I know this because I printed it out.

What's more, I actually read the damned thing, too. All two thousand-plus pages of it.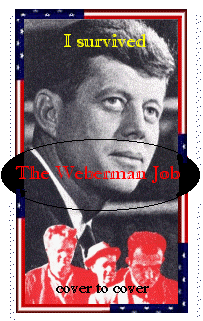 I started this project one bored night back in September. Now around the cyber-compound, different parts of the Updates are often called "jobs." The Gehlen job, the Ezekiel job, the Octopus job, etc. My reading the on-line Coup D'Etat in my spare time became known as "the Weberman job." saint was polite enough never to say anything, but Flaming Faggot and Stealth Shoveler were merciless. "How's that Weberman job coming?" "Jesus, are you still milking the Weberman job?"
Well, I finally finished it.
Apologies to A.J., but he didn't convince me. In fact, he had almost the opposite effect. Weberman exhaustively chronicles many of Hunt and Sturgis's CIA exploits, and almost all of them were botched jobs. The two seem to be on the par with Keystone Kops —these are the guys who brought us the Bay of Pigs and Watergate, remember? I just can't buy that they would suddenly get their shit 100% together for Dealey Plaza.
However, having spent several months of my life devoted to this insidious project, I somehow felt compelled to write A.J. Weberman and tell him of it. I at least gave him kudos for his dedication, and thought that it was awesome he put the site up for free. Even though I didn't agree with him on many points, I did learn a lot from reading his stuff.
Weberman hasn't written back yet.
Assuming he hasn't blown my e-pistle off, I suspect the delay is due to him reading this site in its entirety, filing multiple FOIA requests on me, and crafting a 28-page rebuttal.
In a subtly related matter...
Weberman's book and website presents photographic "evidence" showing some admittedly eerie resemblances between Sturgis/Hunt/Christ and the three tramps.
I've discovered another one that is pretty creepy:
| | | | |
| --- | --- | --- | --- |
| | Marshall Applewhite | Aaron Spelling | |
The two actually have quite a bit in common: Applewhite gave us Heaven's Gate, Spelling gave us Charlie's Angels.
Both have produced warped versions of reality that have proven to be fatal in many cases. Applewhite gave his disciples a vision of a comet with a UFO trailer, and then gave them vodka and barbiturate overdoses as the boarding pass. Spelling gave his watchers some of the most mind-numbing television ever recorded, and many are brain-dead from prolonged exposure. Spelling's résumé reads like a Forbidden Index of Shows to be Avoided, and it stretches for decades: 90210, Melrose Place, The Love Boat, Fantasy Island, The Mod Squad... though my personal (ahem) favorite has to be T.J. Hooker. Too bad Shatner didn't sing the title theme.
...but i digress...
Another, more subtle similarity between Applewhite and Spelling is something they both break from tradition in: lack of sex scandals. I am unaware of any unusual or illegal sexual behavior within Heaven's Gate, and Aaron's daughter Tori is about the un-sexiest woman I have seen since Yoko. It is with vast vulgar sarcasm that refer to her as Torrid Spilling.
She's cheesy and evil, but in a benign way. It's her dad Aaron who's the demon actively assassinating the viewers' front lobes with asinine programming. The man proves my theory that tv is run by the Brain Police.
...and on the subject of cantankerous old fools who twist peoples' minds...
The Ignoranus
(or, Attack of the 3-Chord Nazi)
2004 is building up to be a benchmark year of obtusity. Still reeling and recovering from my run-in with Malcolm, I had the massive misfortune to meet up with a pesky poltergeist from the past, Jack.

First and foremost, I'll skip the obvious by not calling him "Jackass." I have a much more appropriate moniker in mind: "The Ignoranus."

Jack used to be a regular at my favorite watering hole, The Vine. He was a fixture on the smoking patio, bombarding anyone who'd sit with him with tales of inanity. I tolerated him because he was occasionally amusing and every now and then actually had something intelligent to say. Conversations in which he participated were hit or miss, depending on the subject. To his credit, he is very left-brained and has a good grasp of things in that latitude. He's a whiz at calculus, for instance, so it's unfair to call him an 'idiot.' Unfortunately, he possesses that wretched chromosome that makes him participate in conversations about which he knows nothing about yet deems himself an expert. And, of course, he thinks he is an expert on everything.

It should come as no surprise, by the way, that Jack is good friends with Rich.

Sadly, Jack is also very racist. Now normally this can be cured by getting the shit kicked out of you, but unfortunately that's exactly what happened, and it didn't help. The night he pushed his luck too far with some non-caucasian comments, including the dread N word, and paid the price with a beatdown in the bathroom has become the stuff of Vine legend. Jack was 8-balled from the place for having started the problem in the first place. The 8-ball ban is still in effect, and I hadn't seen him in at least a year.

However, Super-Bowl Sunday night I got a call from Kiwi and DK the ranch fiend, who were at a post-game party at Jack's.

They invited me over, and since nothing exciting was going on at the Cyber-Compound, I decided to go out and be social.

It was about as bad as you'd expect, but not for the reasons you'd think.

Jack plays guitar, and had his Martin acoustic handy. Jack insisted "this is the Steinway of guitars," which merely proves he hasn't played many other pieces. That thing was brutal, and my hand hurt so much after it that I couldn't whack off for a week.

We were actually attempting a jam session. Kiwi is an accomplished classical concert organist, and someone had scrounged up a trashed Casio keyboard for him; tone like you'd expect, and the B flat below Middle C didn't work. DK was on "drums," which meant he was banging on an empty coffee can with a spoon in whatever tempo he felt like, without conscious acknowledgement of what tempo/time everyone else was in. This perverse polyrhythm was completed by Jack and myself trading off on his Martin. There actually was a second acoustic handy, but it's tone was so soft that the Martin drowned it out.

I actually think that's why Jack liked his Martin so much. It was a boisterous, overpowering tone that dominated the room with volume.

Kind of like Jack himself.

Now, for those who don't know, I should mention that I play electric guitar, not acoustic. Despite superficial similarities, the two are not the same instrument in terms of how you play them. They require different styles entirely. Acoustics are designed to chug out chords, whereas electrics are more for individual notes. Even then, the chords normally played on an electric are often different: barre chords sound massive through an amp, but in the raw tone of an acoustic are muddy and messy. If you play an electric like an acoustic, it won't sound too good, and if you play an acoustic like an electric it'll be even worse.

Alas, that was the trap I fell into.

Worse, there was the Jack Factor.

Jack's actually a decent acoustic guitarist, but is locked into his own limited style. It's no joke to say that he only knows three chords: G, C, and D. Not counting barre chords, I know about 33. Plus, I took music theory at Florida State, so I actually know what scales, modes, and time signatures are.

Needless to say, this confused and intimidated Jack, who couldn't follow what I was doing if I would hit a chord other than G, C, or D. Sean knew what was up and did a decent job of following, for example, an f# minor progression in 3/4 time, but Jack was aghast at the use of such non-traditional chords, in a waltz time, no less.

He started calling it "Devil Music."

saint, who knows Jack, commented on this: "Jack wouldn't know Devil Music if Satan himself came up and slapped him up-side the head with a Fender Stratocaster."

Satanic overtones aside, he also criticized my music (when just listening in, not actually trying to hack along) as "easy and predictable." This from somebody who only plays three chords, though admittedly in a pattern that is not predictable in that only Jack knew where the changes were.

The experience was not only frustrating but enraging, as it reminded me why I didn't hang out with Jack.

However, it has given me a new cause in life: because of this, I have now founded the Society for the Prevention of Three-Chord Nazis.
meanwhile, an important victory for Branch Floridians!

Gumby's Goes Down in 'Zona!
As most of you know, we've been at war with Gumby's Pizza for about four years now. It has been a long, arduous struggle, but the Crusade for Extra Cheese has at last scored its most obvious victory to date:
The fiendish store that started it all, the Tempe Gumbys, has closed! That was the only Gumby's Pizza in the state, so now Arizona is completely Gumby's Free.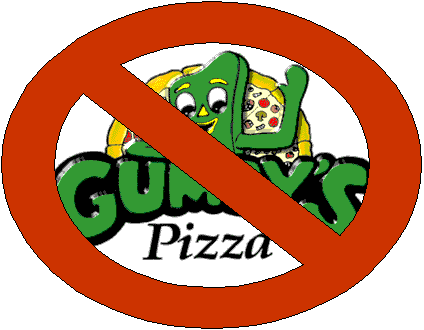 I'd heard this a few weeks ago, but my source, The Singularity, is usually full of shit, so I decided to investigate personally. Suzy had a podiatrist appointment literally right across the street from the Tempe Scumby's, so while she was in getting fixed up, I stomped over to check it out.
Sure enough, Gumby's was gone. Sign was down, and all the equipment removed; inside you could still see a few wall paintings like their website in that hideous green font they use. An official sign on the door from the City of Tempe advised that the store could not be reopened by anyone unless they first pass a health inspection. I am unclear if this means that Gumby's got the boot because of a failed test, or if it was just a formal requirement. Still, Scumby's does have a track record nationally of bad sanitation violations, such as this one.
I credit the Crusade for spreading the word to make Gumby's the pizza pariahs of the area, and can only see this as proof that we do make a difference!
As some anonymous Austrian wall-hanger once opined, "Heute Arizona, morgen die Welt!"
Obviously it is most important to attack the Gumby Ranch at the source: Gainesville. Having Florida free of Scumby's is an obvious goal for the Branch Floridians, as it should allow us to operate with less Brain Police interference back in our home state. At the very least, force them to relocate their corporate headquarters elsewhere in the country. Obviously, as an FSU alumnus from Tallahassee, it comes as no surprise that something this evil would sludge up from UF Gainesville. Most of the original Branch members were crew I worked with from back then, including Evil Matt, La Flambeau, SLowsMoke, Fyhre, Ryfun, and the like, and I know they recall the atrocity that was Gumby's.
So next we'll focus on Florida, with Tallahassee a good place to start before going on to Gainesville and harpooning these fools for good.
...and on the subject of Scumby's...
For a few issues now we've been delving into the mystery of What the phuq is Pokey Butter?!?
Well, even though Gumby's is shut down in 'zona, their website is still up, and taking questions. Under an assumed name, I asked them just that. Surprisingly, I got a reply:
| | |
| --- | --- |
| Date: | Mon, 29 Mar 2004 10:25:54 -0800 (PST) |
| From: | "CHANCE HIPPLER" <gumbys1@yahoo.com> |
| Subject: | Re: Contact_from_your_website. |
| To: | "lurlene_smith@yahoo.com" <lurlene_smith@yahoo.com> |
Don't know 'bout you, but I'm kind of afraid to know what's in the "Gumby spice recipe" that's added. Bet it's a few drops of ranch.
Ask Evil Matt

The Evil One fields your queries, as channeled by Sister Ob'dewlla 'X'.
Q: DEAR EVIL MATT,

FIRSTLY I MUST FIRST SOLICIT YOUR CONFIDENCE IN THIS TRANSACTION; THIS BY VIRTUE OF ITS NATURE AS BEEN INTERLY CONFIDENTIAL AND TOP SECRET THOUGH KNOW THAT A TRANSACTION OF THIS MAGNITUDE WILL MAKE SOMEONE APPREHENSIVE AND ELATED BUT I AM HAVE YOU MY ASURANCE YOU THAT ALL WILL BE WELL AT THE END OF THE DAY. I AM DECIDED TO CONTACT YOU DUE TO THE URGENCY OF THIS TRANSACTION AS WE HAVE BEEN RELIABLY INFORMED FROM THE LOME CHAMBER OF COMMERCE, WHERE THE NAME EVIL MATT IS KNOWN OF RESPECT,OF YOU DISCRETNESS AND ABILITY TO HANDLE TRANSACTION OF THIS NATURE.

LET ME START BY INTRODUCING MYSELF PROPERLY , I AM MR. MOHAMMAD YUSUFU CREDIT OFFFICER WITH THE ECO-BANK,LOME PLC (UBA)- REPUBLIC OF TOGO . I CAME TO KN9OW OF YOU IN MY PRIVATE SEARCH FOR A RELIABLE AND REPUTABLE PERSON TO HANDLE THIS CONFIDENTIAL TRANSACTION,WHICH INVOLVES TRANSFERING HUGE SUM OF MONEY TO A FOREIGN ACCOUNT REQUIRING MAXIMUM CONFIDENCE

THE PROPOSITION:

A FOREIGNER AND AN AMERICAN , LATE ENGR JOHN CREEK (SNR) AN OIL MERCHANT WITH THE FEDERAL GOVERNMENT OF TOGO, UNTIL HIS DEATH MONTHS AGO IN KENYA AIRBUS ( A3K-300) FLIGHT KQ430 BANKED WITH US AT ECO-BANK,LOME PLC (UBA) AND HAD A CLOSING BALANCE AS AT THE END OF JANUARY 2004 WORTH $35,432,000US , THE BANK NOW EXPECTS A NEXT OF KIN AS BENEFICIARY. VALUABLE EFFORT HAVE BEEN MADE BY THIS BANK TO GET IN YOUCH WITH ANY OF THE CREEKS RELATIVE OR FAMILY HAVE BEEN UNSUCESSFUL. IT IS BECAUSE OF THE PERCEIVED POSIBILITY OF NOT BEEN ABLE TO LOCATE ANY OF LATE ENGR JOHN CREEK (SNR) NEXT OF KIN ( HE HAD NO WIFE OR CHILDREN THAT IS KNOWN TO US ).

THE MANAGEMENT UNDER THE INFLUENCE OF OUR CHAIRMAN AND MEMBERS OF THE BOARD OF DIRECTORS ARRANGEMENTS HAVE BEEN MADE FOR THE FUNDS TO BE DECLARED "UNCLAIMED' AND SUBSEQUENTLY DONATE THE FUNDS TO THE ARMS & ARMUNITION TRUST FUNDS AND THIS WILL FUTHER ENHANCE THE CAUSE OF WAR IN AFRICA AND THE WORLD IN GENERAL .

IN OTHER TO AVERT THIS NEGATIVE DEVELOPMENT SOME OF MY TRUSTED COLLEAGUES AND I NOW SEEK YOUR PERMISSION TO HAVE YOU STAND AS THE NEXT OF KIN TO MR>LATE ENGR JOHN CREEK (SNR) SO THAT THE FUNDS WILL BE RELEASED AND PAID INTO YOUR ACCOUNT AS THE BENEFICIARY NEXT OF KIN, ALL DOCUMENT AND PROOFS TO ENABLE YOU GET THIS FUNDS WILL BE CAREFULLY WORKED OUT . WE HAVE BEEN MANDATED BY THE BANK TO OFFICIALY DECLARE THE

BENEFICIARY WITHIN THE SHORTEST POSSIBLE TIME , THAT IS WHY WE HAVE DECIDED TO CONTACT YOU AND MORE SO WE ARE ASSURING YOU THAT YOU THAT YOU ROLE IN THE BUSINESS IS ONE OF EAYNESS AND THE BUSINESS IS 100% RISK FREE INVOLVEMENT .

AS SOON AS WE RECEIVE AN ACKNOWLEDGE OF THE RECEIPT OF THIS MESSAGE IN ACCEPTANCE OF OUR MUTUAL BUSINESS PROPOSAL WE WOULD FURNISH YOU WITH THE NECESSARY MODALITIES AND DISBURSEMENT RATIO TO SUIT BOTH PARTIES WITHOUT ANY CONFUSION .

IF THIS PROPOSAL IS ACCEPTABLE TO YOU DO NOT TAKE DUE ADVANTAGE OF THE TRUST BESTOWED ON YOU ,KINDLY RESPOND IMMEDIATELY WITH THE E-MAIL ADDRESS FURNISHING ME WITH YOUR MOST CONFIDENTIAL TELPHONE, FAX NUMBER AND YOUR EXCLUSIVE BANK ACCOUNT PARTICULARS SO THAT WE CAN USE THIS INFORMATION TO APPLY FOR THE RELEASE AND SUBSIQUENT TRANSFER OF FUNDS IN YOUR FAVOUR.

THANK YOU IN ADVANCED FOR YOUR ANTICIPATED CO-OPERATION AND WE ANTICIPATE FORWARD FROM HEARING FORM YOU EVIL MATT

BEST REGARDS

MR MOHAMMAD YUSUFU
CREDIT CONTROL UNIT.
ECO-BANK,LOME PLC (UBA).
DIRECT LINE: TEL: 00228-9084054
PRIVATE EMAIL: <a href="mailto:oriri2@netscape.net">oriri2@netscape.net(PLEASE SEND YOUR REPLY TO THIS MAIL BOX).


A: Thank you for bringing this proposal to my attention. I'm glad that all those years of hard work I did for the

Lome Chamber of Commerce have finally paid off!

Although there is a very infamous spam scam floating the Net that bears an uncanny resemblance to your email, I have no doubt of your sincerity, as I'm sure our mutual acquaintance at the Lome CoC will vouch for you.

I would be delighted to help in your freeing the funds by posing as a relative of LATE ENGR JOHN CREEK (SNR).

However, I believe that it will be necessary to properly prepare for the role, so I will need the following from you:
news clippings of the crash of KENYA AIRBUS ( A3K-300) FLIGHT KQ430

death certificate of LATE ENGR JOHN CREEK (SNR)

a hard-copy (on ECO-BANK,LOME PLC (UBA) letterhead) of LATE ENGR JOHN CREEK (SNR)'s most current bank statement

a scan of your driver's license and a business card confirming the contact information you provided me is up to date
Since you provided a phone number, I assume it is okay to call you (collect) with any questions.
In the mean-time, here is the personal information you need: I do not have a phone or fax number, but can be reached 24/7 through pineal chip implant. As for my "EXCLUSIVE BANK ACCOUNT PARTICULARS", I bank at the First Bank of Sealy Posturepedic, and take deposits in cash.
I look forward to doing this with you, and am sure we can come to a mutually agreeable division of the spoils. Might I suggest you invest your share in some English grammar and syntax lessons, or at least get the Caps Lock key on your keyboard fixed?
Q: Mathew, did David Gilmour ever do a solo performance on Saturday Night Live?
I remember seeing him on SNL on an episode where Pamela Anderson hosted, the only problem is I don't remember if I really saw it, or if it was just a dream.
A: It was a dream.

David Gilmour sat in with the SNL band on December 12, 1987. The host that night was Angie Dickensen, the musical guest was Buster Poindexter.

Pam Anderson hosted SNL on April 19, 1997. The musical guest was Henry Rollins.

Q: Does Tori Spelling have a star on the Hollywood Walk Of Fame?

A: No, or at least, not yet. (Evil Matt quickly looks around for some wood to knock on.) Her father does, at 6667 Hollywood Boulevard, but I have found no indication that they plan to canonize her with a star. Actually, I think saint listed that as one of his Signs of the Apocalypse.

Q: Did authentic ouzo ever have opium in it?

A: No; that is an urban legend more common around western Europe than Stateside; it is the Euro-equivalent of the American 'Jägermeister used to have codeine' myth. Perhaps I should amend, if authentic ouzo ever had opium added, it was to a finished product and on the whim of an individual. Such mixed cocktails were actually not that uncommon. Laudanum, the bane of Poe and Coleridge, was wine and poppy tincture (opium). Obviously you can add opium to ouzo, but it was never a base ingredient. If there is such a name for an ouzo-opium combo, I have been unable find it.

Q: What type of wood is cork?

A: Oak bark.

Q: Hey, the other day I heard a story on the news about a woman who had found a million dollar bill and had thought it was a joke so she destroyed it! Is there such thing as a million dollar bill?

A: I will assume you mean a bill worth one million U.S. dollars, and the answer is "no." Several South American countries have bills worth a million pesos, Italy (before switching to the euro) had a million lira bill, etc., but the U.S. (and any other country that uses a dollar, such as Canada, Australia, Liberia, etc.) have never officially issued a million dollar bill. Several have floated around as gag gifts, of course — I remember seeing one back in the '80s that had Reagan on it — but they are not legal tender and bear a disclaimer to that effect. Very stupid amateur counterfeiters occasionally try to print their own and pass them off, so far with a success rate of zero.

Q: What

is the genus of a daffodil?

A: Narcissus pseudonarcissus. In Greek legend, Narcissus was turned into a daffodil.

Got a question? .





The Hedgehog Corner

By Harriet the Hedgehog

Hedgehog Meditation


Click here to help get in touch with your Inner Hedgehog.

(works best with a Pineal Chip Implant or MSIE)
That's it for now, folks; and y'all know the drill:
© 2004 (VIII,ii)
---